As the world becomes more conscious of the need to reduce waste, people are looking for sustainable alternatives to disposable products. Not only is reusable plastic silverware more durable than its disposable counterpart, but it's also more stylish and comes in a variety of colors and designs.
Here's an eco-friendly alternative to disposable plastic cutlery. If you're interested to use them for your business, then check out these 10 reusable plastic cutlery options! From forks and knives to spoons and chopsticks, there's a reusable option for every type of meal. Plus, these reusable utensils are durable and dishwasher-safe, so they can be used again and again.
1. Wheat Straw Plastic Reusable Cutlery Set
A set of reusable wheat straw plastic cutlery is a terrific alternative to disposable tableware. Because they are made of eco-friendly materials, these sets are a fantastic way to lessen the environmental effects. They are also ideal for special occasions such as weddings and birthdays. Here are some facts regarding wheat-straw-recyclable plastic cutlery sets!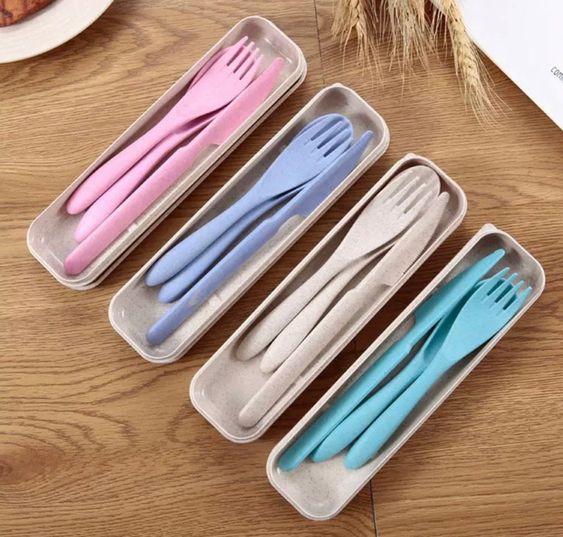 What are the advantages of using wheat-straw-recyclable plastic cutlery?
The key advantage of utilizing reusable plastic silverware made from wheat straw plastic is that it is more environmentally friendly and is designed to be durable and long-lasting. Because of the use of renewable materials such as bamboo and corn, these sets frequently have a lower carbon footprint. The sets include reusable plastic forks, knives, and spoons, all made out of wheat straw plastic.
2. Eco-Friendly Plastic Travel Cutlery
Clients nowadays want to reduce their ecological impact while still enjoying the convenience of disposable flatware so using eco-friendly plastic travel utensils is the way to go. One of the numerous advantages of eco-friendly plastic travel cutlery is that it is created from sustainable materials and hence is far better for the environment than regular throwaway dinnerware.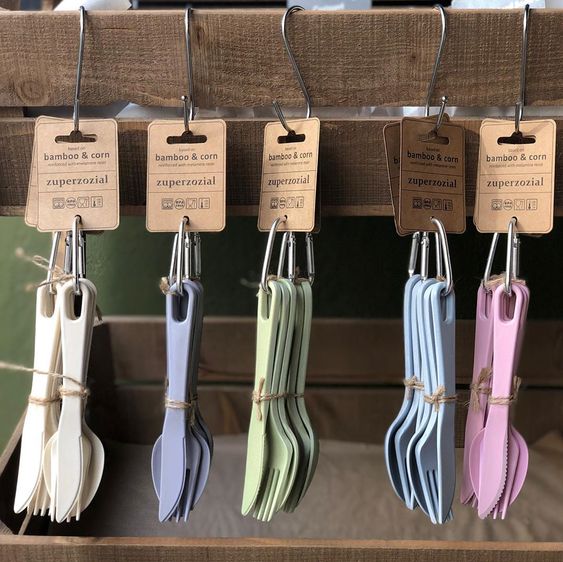 Furthermore, eco-friendly plastic travel cutlery is an ideal choice for occasions such as weddings and birthdays. Because eco-friendly plastic travel cutlery is composed of biodegradable materials, it will biodegrade rather than wind up in landfills like conventional disposables.
Your customers can choose the best set for their needs from the market's large assortment of eco-friendly plastic travel cutlery. Let's talk about the benefits of using reusable utensils:
The benefit of using reusable plastic forks and spoons is that they are better for the environment. Disposable forks are made from petroleum-based materials, which are not biodegradable. This means that they will sit in landfills for thousands of years.
3. Portable Plastic Reusable Utensils Set
Reusable plastic utensils are a low-cost, environmentally beneficial approach to lessen the carbon impact. These sets are essential for birthdays, marriages, and other special occasions. They may be used both at home and on the go.
There are various advantages to using reusable silverware. They help reduce environmental waste and help save money in the long term because the users don't have to buy disposable utensils on a regular basis. Finally, those reusable plastic forks, spoons, and knives are simply handy!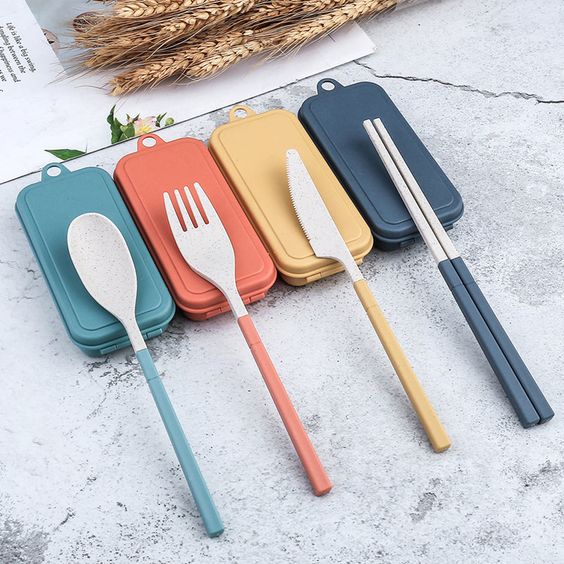 The vast majority of reusable cutlery sets are composed of long-lasting materials like bamboo or stainless steel. Some sets additionally include a carrying case for convenience. Regardless of their requirements, there is a reusable utensil set for your clients.
4. Heavy-duty Recycled Plastic Cutlery
Plastic cutlery is widely used nowadays. It's a regular sight at parties and wedding receptions. But what exactly is heavy-duty recyclable plastic cutlery? What distinguishes this type of disposable utensil from others?
Recycled plastic cutlery is made of strong materials that can survive repeated use. As a result, they are ideal for events like weddings and birthday parties where clients want to minimize their environmental effects. They are also available in a range of colors and designs to match any theme or décor.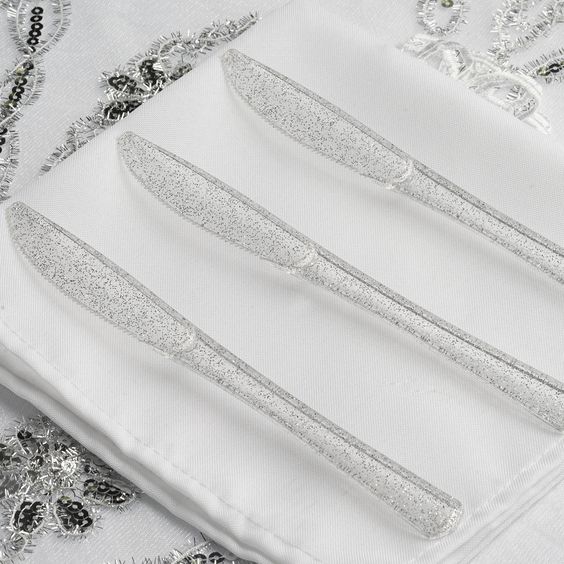 One of the primary benefits of heavy-duty recycled plastic cutlery is that it is more environmentally friendly than traditional disposable choices. Heavy-duty recycled cutlery is made from recycled plastic and is designed to be durable and strong. It is often used in commercial kitchens and restaurants because it can withstand repeated use and washing.
5. Reusable Plastic Cutlery for Kids
Reusable plastic cutlery for kids is becoming more popular as parents attempt to reduce their child's exposure to single-use plastics. Reusable plastic cutlery sets are often made from safer materials than disposable plastics, so reusable spoons and forks won't exert a negative influence on kids' health. Additionally, reusable plastic cutlery sets are more durable and less likely to break than its disposable counterparts.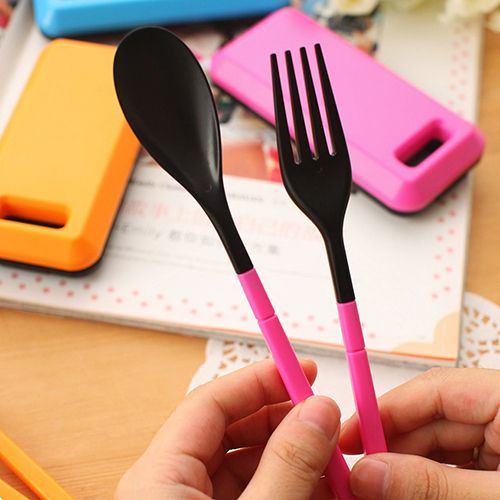 Children's reusable plastic cutlery comes in a range of colors, shapes, and sizes. Those dinnerware sets are typically dishwasher and microwave-safe so that your customers can easily clean that cutlery for their children.
The usage of reusable plastic tableware by children has many other advantages. For example, they help customers save money by not always purchasing fresh reusable plastic cutlery sets.
6. Reusable Gold Plastic Silverware for Parties
The plastic dinnerware set is intended for repeated use and can endure for many years with proper care. One of the numerous advantages of reusable gold plastic silverware is that it is less harmful to the environment than disposable cutlery. Those dinnerware sets can help save money over time because the users won't have to buy new cutlery as frequently. The set includes reusable plastic forks, spoons, and knives.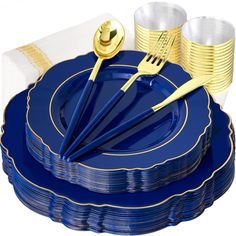 Reusable gold plastic silverware is an ideal choice for both casual and formal occasions. It can be used for ordinary meals as well as special occasions like birthdays, weddings, and parties. Furthermore, the material is quite simple to keep and clean.
7. Reusable Plastic Dinnerware Set for Toddler
Since small children are often clumsy, it's important to choose a reusable plastic dinnerware set that is strong and sturdy. When selecting a set of reusable plastic dinnerware for toddlers, it is critical to evaluate the materials.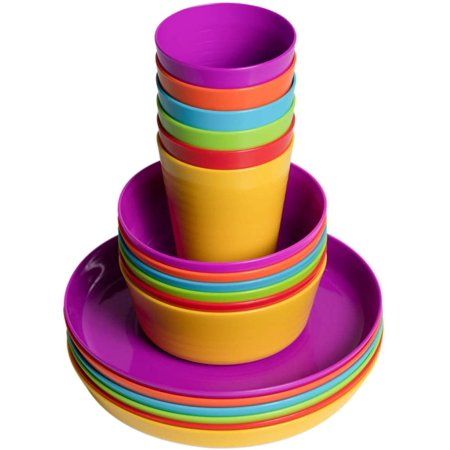 You should also look for a set that is BPA-free and made from food-grade materials. A good reusable plastic dinnerware set for toddlers will have vibrant colors and fun designs to help make mealtime more enjoyable.
When clients are shopping for a set, keeping their child's safety is their top priority. These reusable plastic cutlery sets are also simple to maintain and clean.
8. Reusable BPA-free Plastic Utensils for Camping
A reusable BPA-free utensil is a type of plastic utensil that is created from a composition that does not contain the chemical bisphenol A and may be used repeatedly (BPA). Reusable plastic utensils provide various advantages, including reduced waste generation, cost savings, and protection against the dangerous chemical BPA.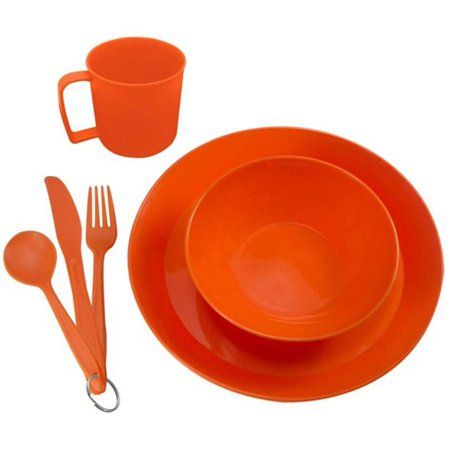 Stainless steel, glass, and bamboo are among the materials used to make BPA-free reusable utensils. However, the BPA-free reusable utensils that are made of plastic materials are the optimal choice for those who want to go camping, owing to their portability and being lightweight.
9. Reusable Plastic Tableware for Ecological Safety
Reusable plastic tableware has grown in popularity in recent years as more people discover its benefits. Because it is constructed of durable, reusable materials, reusable tableware is a wonderful option for people who want to live in a more eco-friendly way.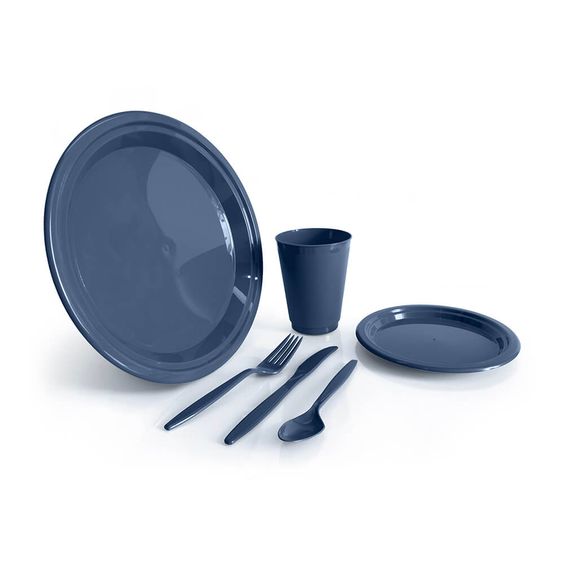 There are so many varieties of reusable plastic tableware that are stylish and satisfy the expectations of clients. If they're looking for an environmentally-friendly alternative for their upcoming birthday celebration or wedding, or if they simply want to decrease the amount of garbage they make, reusable plastic utensils are a wonderful option.
Furthermore, one of the benefits of using reusable plastic spoons is that they are easy to clean. Unlike metal or wooden spoons, which can harbor bacteria, plastic spoons can be washed in the dishwasher or with hot soapy water. Reusable plastic spoons are also more durable than disposable spoons, so clients don't have to worry about them breaking or bending.
10. Reusable Red Glitter Plastic Cutlery Set
A set of recyclable red glitter plastic cutlery is a great way to glam up any upcoming birthday or wedding party. Because of their sturdy structure, these lovely sets can be used regularly. These reusable plastic cutlery sets are also simple to maintain and clean.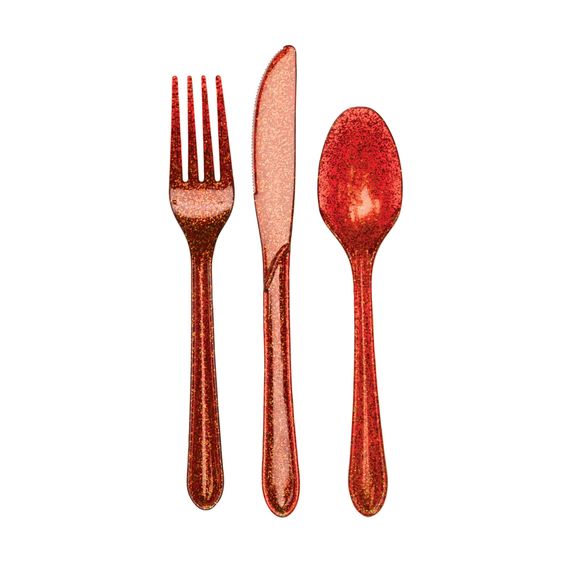 Even beyond its eye-catching appearance, a set of red plastic silverware with glitter has many practical uses. They are far more environmentally friendly than throwaway alternatives. Second, they can end up saving money in the long term. Third, they add a touch of sophistication and elegance to any occasion.
If anyone wants to add a unique touch to celebrations, it's advisable to use reusable red plastic cutlery with glitter. These stunning sets will undoubtedly make the party unforgettable!
Trustworthy Provider of Plastic Cutlery Mold & Injection Molding Services
FOW Mould, a knowledgeable and trusted supplier, offers injection molding and reusable plastic cutlery molds. Our services are unparalleled, and we have extensive expertise in creating and producing plastic silverware molds.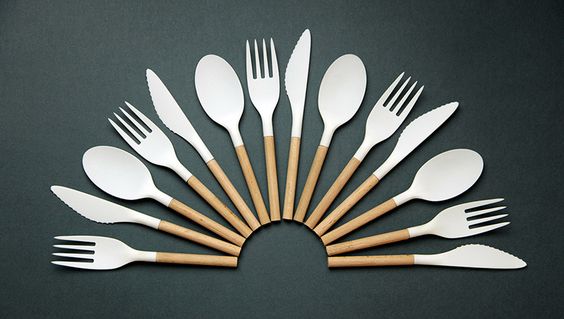 We have extensive knowledge of all aspects of plastic injection molding and a track record of providing our customers with high-quality products and services. Furthermore, our prices are quite reasonable, making us an outstanding value.
Also, reusable plastic spoons are also more environmentally friendly than disposable ones. This is because they can be washed and reused, which reduces the amount of waste that goes into landfill sites. In addition, they often contain fewer harmful chemicals than disposable spoons, making them safer for both the company's clients and the environment.
Customers are invited to contact us if in need of any form of injection molds as well as plastic injection-molded products, whether cutlery or something completely different. You are welcome to contact us for a free consultation and quote. Some of the services people can obtain by contacting us are as follows:
Custom Plastic Silverware Mold
If in need of custom plastic silverware for an upcoming event, party, wedding, or for business, FOW Mould is the perfect place to turn. We specialize in high-quality custom plastic silverware molds that will make your event/business shine.
The needs of various businesses can be all satisfied with the help of our bespoke plastic silverware mold service. Those experts who are working for FOW Mould have the skills to give a high-quality mold that fits the client's exact requirements.
The team of experts will work with the clients to make sure the project is done on time and on budget. For more information about the service to make custom plastic silverware molds, please get in touch with FOW Mould as soon as possible.
Furthermore, reusable plastic spoons offer a number of benefits over their disposable counterparts. They are more durable and less likely to break, which means they can be used multiple times without needing to be replaced. This can save clients money in the long run, as well as reduce waste. That's why this is a good venture for businesses.
Plastic Silverware Injection Molding
FOW Mould is the company to call if the injection molding service is in need. Customers can expect them to offer goods and services of high quality.
They can always be helpful no matter how many things a client needs. The company can guarantee that the reusable plastic silverware injection molding project will be done on time and under budget. By utilizing cutting-edge tools and technology, any need can be easily met.
Conclusion
Before purchasing a reusable plastic cutlery set, be sure to research the different types of materials that are available. There are many sets that are made from recycled materials, which is a great option for those who are looking for an eco-friendly product. There are also sets that are made from BPA-free plastics, which is important for those who are concerned about chemicals leaching into their food. Be sure to read the reviews of the different sets before making a decision
Contact FOW Mould for assistance with the design of plastic cutlery. Superior plastic injection molds are the product of our experienced injection mold developers. Those experts take great care in designing injection molds to precisely match the profile of the client's final product. 
The lifespan of mold is expected to be in the decades. Injection molds should be constructed from long-lasting materials that can withstand repeated uses.